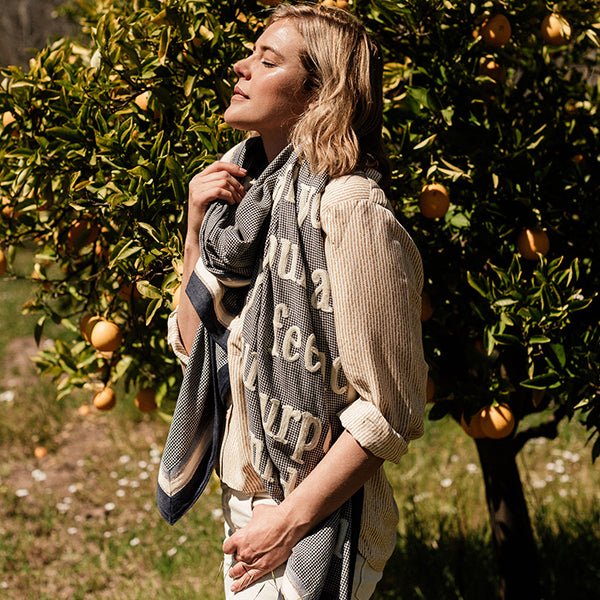 Celebrate the change of season with a wardrobe spring clean and refresh. We've put together exclusive looks for you to shop from four of our much-loved brands, hassle-free. From minimalistic pairings to eclectic layering, we have you covered. We've just unpacked the second drop of SS20/21 and our Constantia Boutique is looking fresher than ever, filled to the brim with new arrivals that are perfect for spring!

Kisses,
Miss M



The New Neutral

Take the soft minimalist route with tailored separates and soft silhouettes that are given the edge by adding a unique Karien Belle scarf with its pop of colour and pattern. Lashings of honey beige, bone-white, and dark sand make for a minimalist look that can be mix and matched with your existing wardrobe.

Left to Right;
V-Neck Linen Tee,
Karien Belle Scarf,
Bone White Blazer,
Dark Sand Trench Coat
Dark Sand Slip on Loafers
Woven Jogger Pants
Karien Belle Scarf
Bone White Jeans
Karien Belle Scarf
One Piece Wonders

Want maximum impact with minimal effort? Throw on one of these effortless showstoppers for an all-in-one outfit that works for a variety of casual and formal occasions. Delightfully feminine touches add a little playfulness to these all new items.

Left to Right;
Albus Dress,
Vechi Red Top, Weina Red Pants
Island Roamer Dress


Eclectic Layering

Re-discover the pleasures of dressing up, and let this simple act elevate your mood, allowing you to express your personality. Take your cue from Aldomartins and don't be afraid to mix pattern and colour with pared-back staples to create a kaleidoscope of happiness.
Left to Right;
Karien Belle Scarf,
Be Grateful White T-Shirt
Aina Jacket,
Straight Denim Jeans
Carin Cotton Sweater
Black Denim Jeans
Adara Jacket
Light Yellow Jacket
Karien Belle Scarf