What a year!! Goodbye 2020!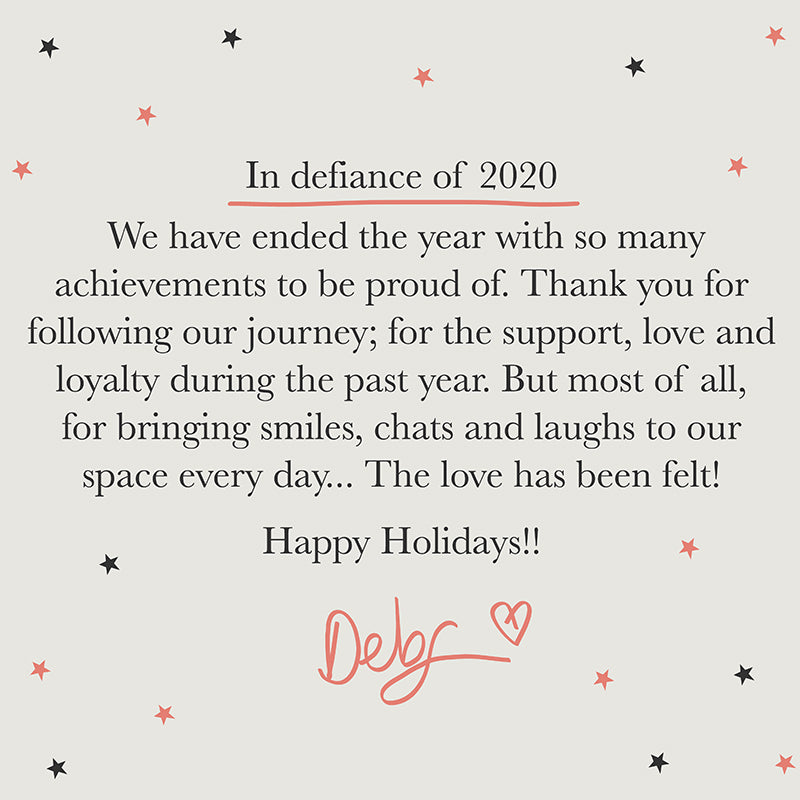 Friends,
Last night as I sat wrapping Xmas presents, which seems to be a never-ending task, the lights went out... Randomly, power was lost throughout seven suburbs. I sat in the pitch black feeling around for that glass of Rosè, I thought to myself 'I'm not even surprised!' If this year has taught me anything, it's to take nothing for granted.
 It's been a challenging year on so many levels; work, mental health, physical health, and more importantly, loss for so many people. My only survival tactic has been to count my blessings every day. And my business is right at the top of that list. It gives me the energy and drive to push myself further. I am surrounded by an incredible team... It looks like a small operation but in fact, there are so many others creating the magic behind the scenes.
This year, we worked harder than ever before and have come out on the other side feeling so grateful that we did. We have learned so much and we have grown even more. It's funny because when I started this business, the customer I had in mind seemed like a woman I would one day aspire to be. Now, 21 years later I find I am my customer! I love the brands and the style we represent.
Most of all, dear customers, thank you! For being such an integral part of our beautiful journey and for bringing smiles and chats and laughs to our space every day.
Hope you enjoyed my top five items. Have a peek and see if you agree.
Happy holidays!
All my love Debs xx
1. SCOTCH & SODA TEE
2020 saw the introduction of Scotch & Soda to our store. I have been a long time fan of this inspiring Dutch brand. Their fabrication, quality, and finishes are second to none and we are so proud to have them as part of the Madison offering going forward. This tee has quickly become my favourite. Basic enough to be worn with anything, but with the great detailing that Scotch & Soda do so well. Not to mention, slightly longer sleeves which I love.



2. LE TEMPS DES CERISES JEANS
Those who know me well, know I'm a jeans girl, and these are the absolute, hands-down, best jeans on the market. Tailored to sit mid-waist, and with straight-legs that hit just above the ankles. Le Temps Des Cerise's is cut from the softest premium denim blended with a hint of stretch so they feel comfortable and keep their shape over time making them such a worthwhile investment.



3. KARIEN BELLE SCARF
Madison has been a proud supplier of Karien Belle scarves for the last 8 years. Karien runs a business with heart, all products are hand-embroidered in India and produced in a fair trade unit. No two pieces are alike, each is beautifully unique and special. Mine is a year-round staple, as a cozy scarf in winter and as a beach wrap in summer. It also looks so chic simply thrown over a chair. I have a few on my list as gifts this year, a really special heirloom piece.




4. ONESEASON BEACH DRESS
When I'm not in the store, you'll find me pottering around my farmhouse and this dress is my go-to uniform. Cut from crisp, cool cotton it's the airy outfit that I crave during the week. A perfect beach dress, thin enough to be thrown in a beach bag and sexy enough to see you into the evening. The deep V-neckline is traced with textural ruffles for a feminine touch on sun-kissed skin. 

5. SEAFOLLY STRAW HAT
"I'm starting with the (wo)man in the mirror, I'm asking (her) to change (her) ways" - My Skin...
It's no secret I haven't been the smartest beach babe, but my New Years' resolution is to be better. Number 5 is for my skin, and I might as well look good while I'm saving it...